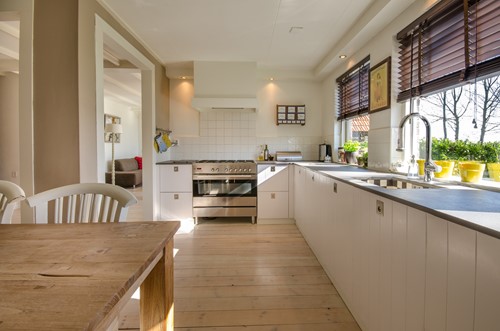 Photo by Skitterphoto via Pexels
Purchasing new construction offers a chance to design a kitchen that suits your needs and fulfills your preferences in terms of style. When you're coming up with ideas for your kitchen, keep function and aesthetics in mind. Your kitchen should provide a practical place to handle everyday tasks while also adding visual appeal to your new home. Consider the following kitchen design ideas to help you get started on this process.
Smart Technology
Smart technology can turn your kitchen into a state-of-the-art room that makes it easier to do a variety of everyday tasks. Both large and small appliances come with smart features that allow you to control them more conveniently, such as with voice commands. These appliances also make it possible to access their controls from your smartphone or another portable device, which means you can use them when you're not at home. For example, you can get your oven preheated when you're on your way home. You can also choose smart lighting for your kitchen for added convenience and energy-saving features.
Energy-Efficient Features
Building a new kitchen gives you a great opportunity to ensure that it's as energy-efficient as possible. One of the main ways to do this is by choosing energy-efficient appliances and lights. Look for the newest appliances with Energy Star ratings in order to save a significant amount on energy usage. Energy-efficient lighting features can also help you keep energy usage lower. LED or CFL bulbs, dimmer switches and lights with timer controls all offer various ways to save on energy in your new kitchen.
Clever Storage
Kitchens in new homes tend to include a more open design, which can make storage a challenge. You don't have to sacrifice much space for storage in your new kitchen if you plan it right. Look into storage ideas that allow you to maximize usable space, such as an island with built-in cabinets or shelves. Cabinets with pull-out drawers and built-in shelves over the sink offer other ways to store items without giving up any food preparation or eating areas. Floating shelves can also provide you with extra storage, while built-in cabinets, drawers and shelves in your pantry offer convenient storage in an out-of-the-way place.
Countertops and Cabinets
The countertops and cabinets in your new kitchen should create a cohesive look, so it's important to choose the right materials and colors. Otherwise, you could end up with a kitchen design that doesn't quite flow well. Whether you prefer monochromatic color schemes or a color scheme that includes a contrasting color here and there, keep the overall look you're aiming for in mind. When it comes to materials, your countertops and cabinets should also complement each other. For example, you might choose wood cabinets with natural stone countertops for a rustic look.
Functional Layout
The layout of your new kitchen should allow you and your family to move around with plenty of room while also making it easy to prepare meals and clean up afterwards. Keep the "work triangle" between your fridge, stove and sink in mind when deciding on the right layout. The layout that works best for your new kitchen might depend on the layout of the surrounding rooms and your needs in terms of everyday use. For example, an L-shaped kitchen with an island for extra countertop space might work in a smaller kitchen, while a U-shaped layout might work better in a more spacious kitchen.